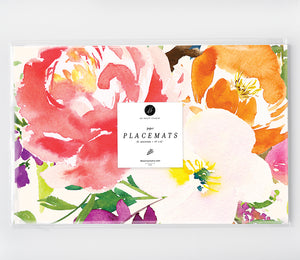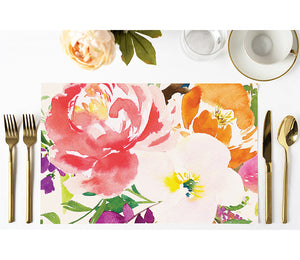 Opulent Florals Paper Placemats
Our exquisite Opulent Florals Paper Placemats are the perfect addition to your elegant bridal shower table settings. Immerse yourself in a world of vibrant colors and blooming flowers, bringing a touch of natural beauty to any occasion large or small.
Whether you're hosting a bridal shower or a delightful garden party, these placemats are designed to create unforgettable moments with the ones you love. Adorn your dining table with these enchanting placemats, and watch as the atmosphere comes alive with the joy of celebration.
Our opulent florals disposable placemats feature a stunning array of bright colors that will captivate your guests' attention. Delicate floral printed patterns exude grace and elegance, elevating your dining table decor to new heights.
Not only do these placemats enhance the visual appeal of your dining experience, but they also provide a practical solution for keeping your table clean and protected. Made from high-quality paper, they effortlessly catch spills and crumbs, making post-party cleanup a breeze.
Create memories that will last a lifetime and transform any gathering into a truly unforgettable affair.
Embrace the essence of blooming flowers, celebrate love and togetherness, and elevate your dining table with our disposable paper placemats. 
"Beautiful and sturdy. These placemats are just beautiful and really dress up the table. While I chose to throw them out after using them, they are sturdy enough that you can wipe them down and use them again. They always receive lots of compliments. That's how I ended up ordering them. Friends had them and they looked great on their tables. "  - Mag Aby
DETAILS: 
25 pack
Professionally press printed on thick paper stock
Large size, approx. 17x11"
Packaged in sturdy resealable poly bag to store extras
View our entire Collection of Placemats