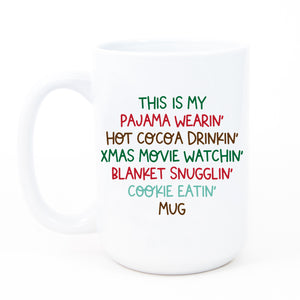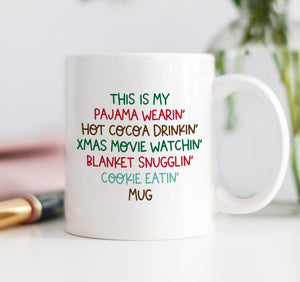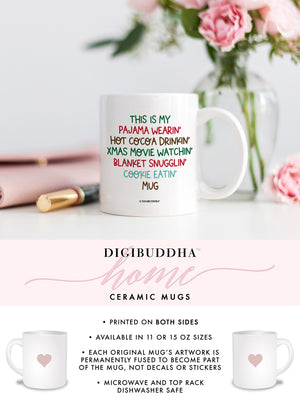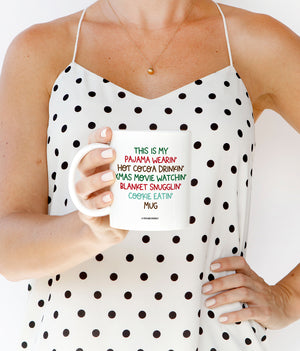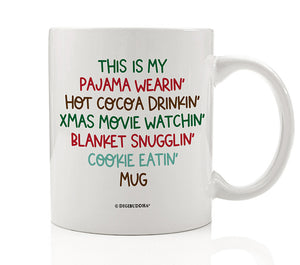 Pajama Wearing Christmas Mug
Introduce some festive spirit into your daily caffeine ritual with this vibrant and fun Christmas mug. Perfect as a holiday gift mug or for adding some extra cheer to your Christmas movie mug collection. Whether you're looking for unique Christmas mug ideas or seeking a humorous addition to your holiday mugs, this little gem fits the bill.

• Fine white ceramic: Crafted from fine white ceramic, ensuring a durable and high-quality finish.
• Glossy glaze finish: A flawless glossy glaze finish for that sleek, modern look.
• Art printed on both sides: Original custom-made art printed on both sides, creating a symmetrical aesthetic.
• Microwave & dishwasher safe: Suitable for both microwave and top rack of the dishwasher, making it convenient for everyday use.
• Secure packaging: Securely packaged and shipped to protect from any damage, ensuring your mug arrives in perfect condition.
In the spirit of the holiday season, this is the perfect Christmas gift idea for your favorite movie lovers. This funny Christmas coffee mug embodies all the best parts of the festive season: pajamas, hot cocoa, Xmas movies, snuggly blankets, and cookie eating. It's like having a mini Christmas mug themed holiday in your hands.
And let's not forget those cosy evenings, wrapped up in a warm blanket watching The Santa Clause, sipping hot cocoa from your the hot cocoa mug. Is there anything that screams 'Christmas' more than that?
This mug is not just a holiday gift mug, it's a declaration of love for the most joyous time of the year. A time when pajamas become daywear, hot cocoa is the beverage of choice, Xmas movies play on repeat, and cookies are the official meal of the day. It's a true celebration of the holiday season, wrapped up in one charming little mug.
So why not add a dash of humor to your holiday mugs collection? Or better yet, inspire someone else's Christmas mug ideas by gifting them this quirky and delightful mug. With its colorful and vibrant design, it's a perfect pick for those who love to add a touch of whimsy to their festive decor.
Wrap up your search for movie lovers Christmas gift ideas with this funny Christmas coffee mug. It's a cup that doesn't just hold your hot beverage, it holds the spirit of Christmas - pajama wearin', hot cocoa drinkin', Xmas movie watchin', blanket snugglin', and cookie eatin'. All the festive feelings, one fantastic mug.