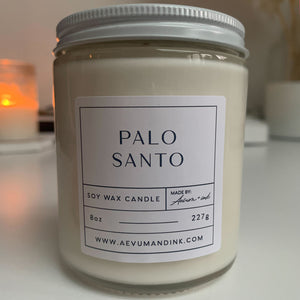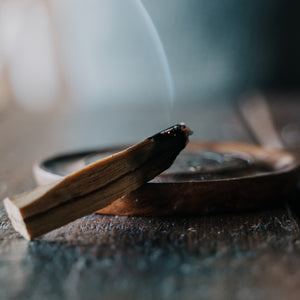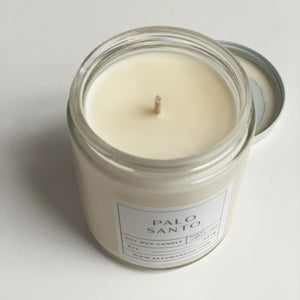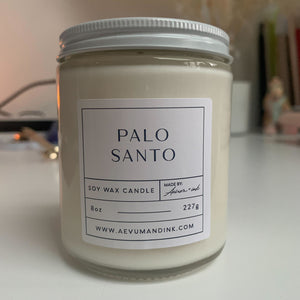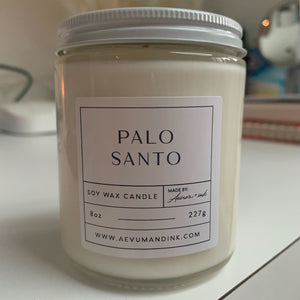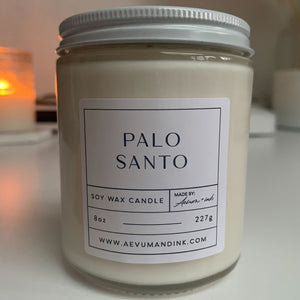 Palo Santo Soy Wax Candle
Experience the magic of the handmade Palo Santo candle by Aevum + Ink, crafted to perfection and brimming with the spiritual essence of Palo Santo fragrance for relaxation.
8oz soy wax candle
reusable glass jar

phthalate free fragrance and essential oils

Palo Santo belongs to the woody fragrance family and smells subtle, sweet, and woody with hints of mint, citrus.
Each organic Palo Santo candle is the result of countless hours of artisanal craftsmanship and embodies our commitment to sustainability. 
As the best Palo Santo candle for aromatherapy, it offers more than just a pleasant scent. The Palo Santo candle benefits are numerous; this special aroma is known to clear negative energy, promote tranquility, and foster a more peaceful environment. Aevum + Ink's soy-based candles with Palo Santo scent are more than just candles, they are a medium for peace and positivity.
Each of these hand-poured soy candles with natural scents promises an experience that engages all your senses. From the moment you light it to the very last flicker, our candles are guaranteed to fill your space with a relaxing scent that lingers, turning your home into your personal sanctuary. 

At Digibuddha, you can easily buy Palo Santo candle online, bringing home the enchantment of the Aevum + Ink Palo Santo scented soy candle. We take pride in delivering a high-quality Palo Santo candle that not only smells great but also adds a touch of sophistication to your decor.

These aren't your average candles; they are holistic home fragrances Palo Santo lovers will adore, formulated with essential oils for a truly multi-sensory experience. These pure soy wax candles with essential oils burn cleanly, ensuring a consistent, long-lasting fragrance that fills your space without being overpowering.

Everyone needs a little stress relief in their lives, and our candles are perfect for creating that calming atmosphere. As some of the best candles for stress relief, their soothing, woodsy scent transforms your home into a haven of tranquility after a long day. Our Palo Santo scented home products go beyond candles, encompassing an array of products designed to infuse your home with this unique and calming scent.

Our candles don't just smell good; they feel good too. These soothing natural fragrance candles are crafted with your comfort in mind, emitting a gentle aroma that relaxes the mind and soothes the soul. Light an Aevum + Ink candle, breathe in its serene scent, and let the stress of the day melt away. Every flicker brings you closer to tranquility, making your home a sanctuary of peace and relaxation.