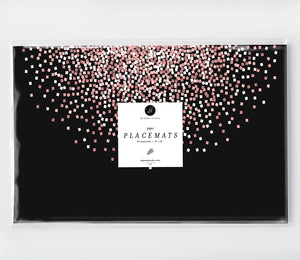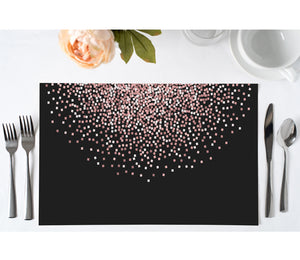 Pink Noir Paper Placemats
Introducing our pink noir paper placemats, the perfect addition to any celebration that deserves a touch of glamour and sparkle. Whether you're hosting an engagement party, a New Year's Eve bash to ring in the new year in style, or a graduation party to commemorate a significant milestone, these placemats are designed to make your event truly unforgettable.
Featuring a stunning pink confetti print, these placemats exude elegance and sophistication. The confetti adds a touch of glitz and glam, creating a mesmerizing effect that will captivate your guests and set the mood for a memorable celebration. The pink hue adds a feminine and romantic touch, perfect for creating a visually stunning tablescape.

These placemats are not only visually appealing, but also highly practical. They provide a protective and decorative surface for your dining table, keeping it safe from spills and stains while adding a glamorous touch to your event. The high-quality materials ensure durability and easy cleanup, allowing you to focus on enjoying the festivities without worrying about the mess.

Whether you're celebrating a personal achievement, a milestone, or a joyous occasion, our pink noir paper placemats are the perfect choice to elevate your event. They effortlessly combine style and functionality, making them a must-have for any party or celebration.

Create a party full of glitz, glam, and pink and black perfection with our disposable paper placemat by Digibuddha. Make your celebration with the ones you love truly memorable and be proud to showcase these placemats as a symbol of your success and achievement.

Get ready to shine and celebrate in style with our pink noir paper placemats. Order yours today and let the glitz and glam take center stage at your next special event.
"I ordered these for a bridal shower and they were perfect. Very hard to believe they were paper! Perfect placemats!"  - Catherine Kroll
DETAILS: 

25 pack
Professionally press printed on thick paper stock
Large size, approx. 17x11"
Packaged in sturdy resealable poly bag to store extras
View our entire Collection of Placemats