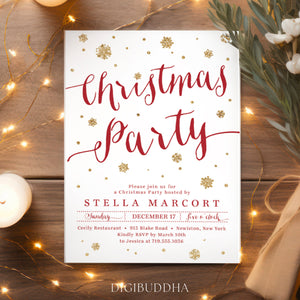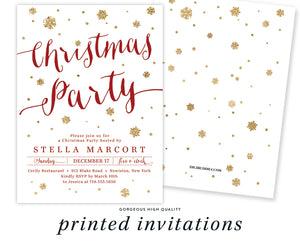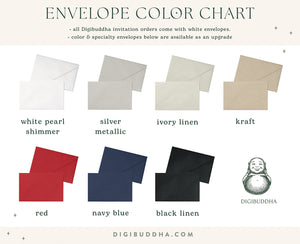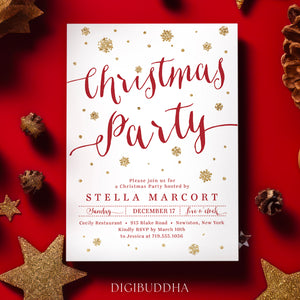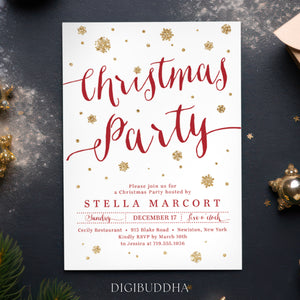 Red and Gold Snowflakes Christmas Party Invitations
Tis the season for merry and bright gatherings! And what better way to set the mood than with our gold and red stripes Christmas party invitations? Whether you're hosting an intimate holiday party invite gathering, a glamorous Christmas cocktails soirée, or even an annual Christmas party invitation event, these invites are the perfect way to announce your festive occasion. With a chic combination of red stripes, a rustic chalkboard background, and a dash of confetti design, every detail of these invites exudes glam, festivity, and elegance.
Crafted to a generous 5x7" size ensuring your invite stands out in the mail pile.

Full color printed on both sides, because why have a party on just one side?
Fully personalized and customizable to capture every merry detail of your event.
Comes with pristine white envelopes, but for the divas, colored upgrades are at your beck and call.
Order in any quantity, whether you're keeping it intimate or throwing the bash of the decade
There's something incredibly heartwarming about mailing out Christmas invitations. It's the tangible buzz of the season, the shared anticipation, and the promise of memories yet to be made. Sending these invites is like sending a hug through the mail – a gesture that says, "I'm thinking of you and I want you by my side as we jingle all the way."
But these aren't just any invites. They come alive with a snowflake invitation design in glorious gold, setting a festive scene right off the bat. And the fun doesn't stop at the front. Flip over, and the backer presents a coordinating design, with options to upgrade with custom text or perhaps a jolly family photo. With Christmas party invitation ideas aplenty, we've ensured the personalization process is as smooth as Santa's sleigh ride. And fear not, our elves, ahem, professional designers, will craft your design to perfection before it goes to print.
So, whether it's the whimsical red and white Christmas invite paper look or the Christmas party favors you're planning next, let these invites be the gateway to a season filled with joy, love, and a whole lot of merry-making.