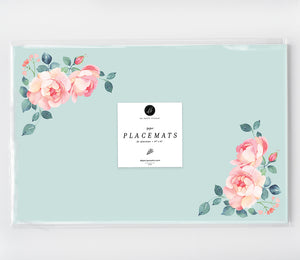 Rose Garden Paper Placemats
Introducing our elegant Rose Garden Paper Placemats, the perfect addition to celebrate your mother's 60th birthday in style. Transform your space into a beautiful garden party as you gather with the ones you love to honor this milestone occasion.

Crafted with meticulous attention to detail, our Rose Garden Paper Placemats feature stunning rose designs that exude timeless beauty. The delicate petals and vibrant colors create an enchanting atmosphere, perfectly capturing the essence of celebration and love.

Celebrate the big 60 with these exquisite placemats that add a touch of elegance to your table decor. They serve as a beautiful backdrop for your celebration, setting the stage for cherished moments and heartfelt conversations.

As you gather to honor your mother's journey, these placemats create a sense of warmth and love. They are not just a decorative piece but also a practical solution, protecting your table while adding an element of sophistication to the dining experience.

Let the rose garden paper placemats be a symbol of love and appreciation as you celebrate your mother's 60th birthday. It's a milestone that deserves to be honored with grace and style, surrounded by the ones who hold a special place in her heart.

Create an unforgettable celebration with our disposable paper placemats and transform your event into a beautiful garden party filled with love, laughter, and memories that will be treasured for years
to come.
DETAILS: 
25 pack
Professionally press printed on thick paper stock
Large size, approx. 17x11"
Packaged in sturdy resealable poly bag to store extras
View our entire Collection of Placemats