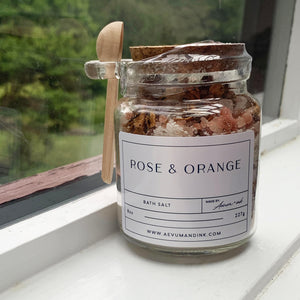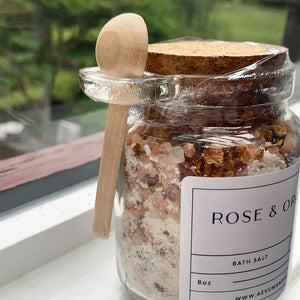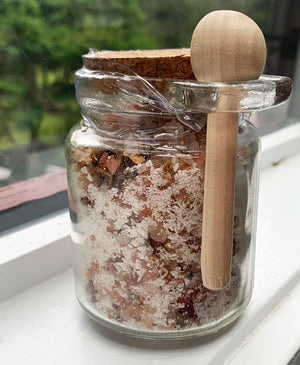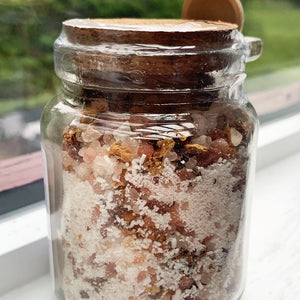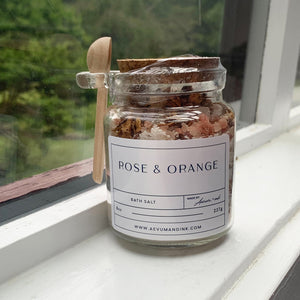 If you've been searching for the Best Rose Bath Salts, your journey ends here with our luxurious Rose & Orange Bath Salts by Aevum + Ink. Crafted with love and an unwavering commitment to quality, these bath salts are designed to transform your bath into a haven of relaxation. Indulge in the calming fragrance of rose coupled with the invigorating aroma of orange. These Orange Bath Salts for Relaxation are your perfect partner for a stress-melting soak.

8oz glass jar with cork stopper
small wood spoon included
Simple ingredients: epsom salt, dead sea salt, essential oils, dried botanicals
Each jar of our High-quality Bath Salts is a testament to our commitment to quality and wellness. A part of the extensive range of Aevum + Ink wellness products, these salts epitomize the best of luxury self-care products. Our bath salts aren't just an indulgence; they're a ticket to a rejuvenating spa experience right in your home. As a standout in the range of high-quality handmade spa products, they deliver on their promise of unparalleled relaxation and skin nourishment.

Our bath salts are more than just a beautiful product; they're Essential oil-infused relaxation products designed to cater to your well-being. The charming blend of rose and orange offers an aroma that's both comforting and invigorating, ensuring your bath is anything but ordinary. If you've been on the hunt for Rose and Orange relaxation products, this one will exceed your expectations. So, draw a bath, add a generous scoop of our bath salts, and immerse yourself in a world of tranquility and luxury. It's not just a product, but an experience that you'll cherish.

Crafted with attention to detail and a passion for wellness, our Handmade Bath Salts are a treat for your senses and your skin. Our Bath Salts with Essential Oils are meticulously infused with the best of rose and orange oils to create a delightful aromatic experience that's reminiscent of a lush, fragrant garden. These bath salts come housed in a beautiful Bath Salts in Glass Jar, making them a chic addition to your bath routine, and an attractive gift.

Experience the therapeutic benefits of our Therapeutic Bath Salts, designed to soothe your body and your mind. Enhanced with natural botanicals, our Bath Salts with Botanicals bring the essence of nature to your bath. Imagine sinking into a warm, aromatic bath that not only soothes your senses but also nourishes your skin - that's the promise of our bath salts. As part of our sustainable self-care products, they are as kind to the environment as they are to you.

Dive into the world of aromatherapy with what we confidently call the Best aromatherapy products for bath. Our Rose essential oil products, like these bath salts, fill your bathroom with the timeless scent of roses, transforming it into a tranquil haven. Simultaneously, our Orange essential oil products lend an invigorating citrusy aroma that lifts your spirit and energizes you.

In our commitment to wellness and natural care, our bath salts shine as standout Organic spa products. Made with natural ingredients and free from harsh chemicals, they bring the spa to you while prioritizing your well-being. So, why wait? Bring home our luxurious bath salts and turn your everyday bath routine into a delightful spa experience. It's time to embrace self-care with Aevum + Ink.