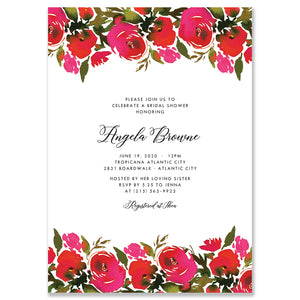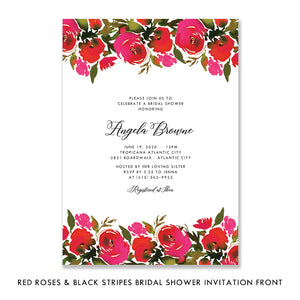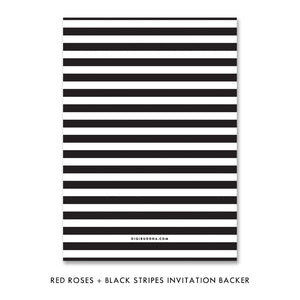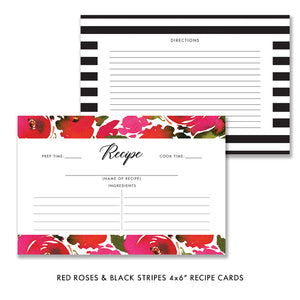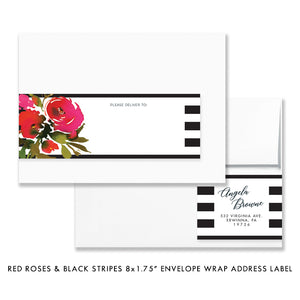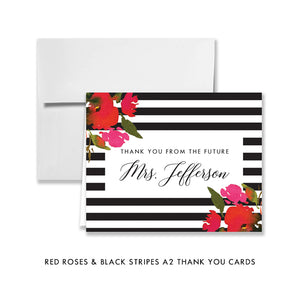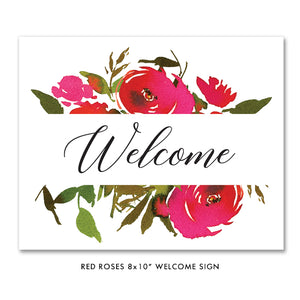 Roses and Black Stripes Bridal Shower Invitations
Embrace the timeless elegance of our red roses bridal shower invitations! Perfect for a garden party or a brunch, our invitations feature beautiful red roses, accentuated by classic black and white stripes. These invitations add a touch of chic sophistication to any bridal shower, and they're ideal for everything from a casual garden party to an elegant southern bridal soiree.
💍 Full-color printing on both sides: Showcase your stylish event details from every angle.
💍 Personalized and customizable: Adjust the text to fit your event details perfectly. Our professional designers will ensure an elegant layout.
💍 Quantity flexibility: Orders can range from as low as 10 to as high as 250+ invitations, with built-in discounts as the quantity increases.
💍 Easy personalization process: Simply type your event details in the text box before adding to cart.
💍 Fast Shipping on US orders: All US orders ship USPS or UPS for quick delivery.

We know that every event is unique, and so should be the invitations. This is why we offer customization to ensure the invites mirror the event's theme and mood. If you're going for a bridal shower brunch or a shabby chic gathering, we've got you covered. The charming red roses and black stripe backer design can blend seamlessly into any event's aesthetic, ensuring a harmonious look throughout.

When you choose our red rose bridal shower invitations, you're not just selecting a design, but you're choosing a statement about your event's elegance and flair. Every detail matters, and the invitation is the first glimpse your guests will get of the event. So why not make it an unforgettable one? Choose these invitations and set the tone for a beautiful, elegant event your guests won't forget.

Moreover, Digibuddha understands the importance of words and the tone they set. Hence, we let you personalize the bridal shower invitation wording. So whether it's a classic 'please join us' or an invitation that reads 'let's party,' our design can handle it all.

Last but not least, we know that love is in the details. That's why we offer envelope color upgrades and the option to add additional custom text or photos. When it comes to southern bridal shower invitations, Digibuddha's red roses and black stripes design is a sure winner. It's more than an invitation; it's the start of a memorable event.