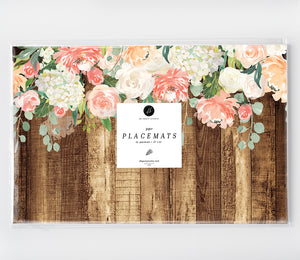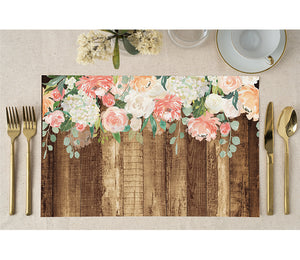 Rustic Garden Paper Placemats
Our exquisite rustic garden paper placemats by Digibuddha are the perfect addition to your garden bridal shower or farmhouse wedding shower. Immerse yourself in vintage elegance as you create cherished moments with the ones you love.
Designed to capture the essence of a blooming garden, these placemats bring a touch of natural beauty to your table decor. The intricate floral patterns and rustic charm effortlessly transport you to a bygone era, adding a touch of vintage elegance to your special occasions.
Designed with meticulous attention to detail, our Rustic Garden Paper Placemats are printed on high-quality paper to ensure durability and style. 
Not only do these placemats enhance the visual appeal of your table, but they also provide a practical solution for keeping your dining area clean and protected. 
Whether it's a garden party, tea time or dinner for two, these placemats will add a touch of elegance to your table setting and transport your guests to a world of beauty and nostalgia.
"Great rustic wedding placemats! The placemats look just like the website photo. It's thick, pretty, and functional. I chose it for my daughter's wedding, and it will go perfectly in our backyard reception! "  - Lorraine Gilbert
DETAILS: 
25 pack
Professionally press printed on thick paper stock
Large size, approx. 17x11"
Packaged in sturdy resealable poly bag to store extras
View our entire Collection of Placemats