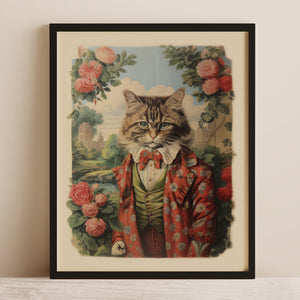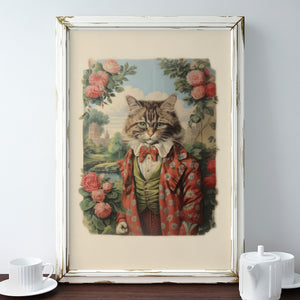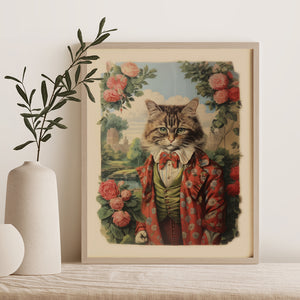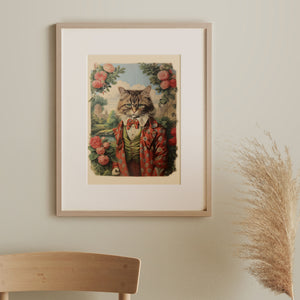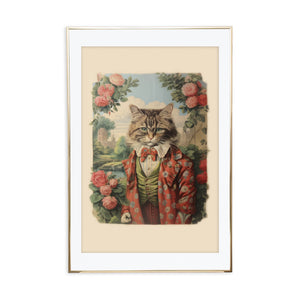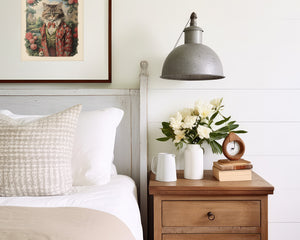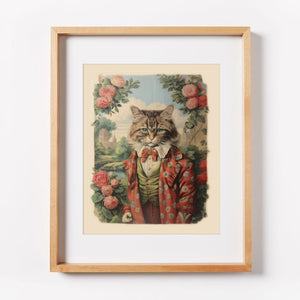 Sir Sartorial Whiskers Vintage Cat Art Print
Introducing Sir Sartorial Whiskers, a regal cat known for his well-curated wardrobe, featuring waistcoats and pocket watches. This Vintage Cat Art Print is not just a piece of decor; it's an expression of elegance, charm, and your love for the quirky and unique. This Vintage Cat Lithograph reproduction captures the true essence of a regal cat known for his well-curated wardrobe. The Sir Sartorial Vintage Cat, with its intricate details, is sure to add a touch of vintage sophistication to your walls.

Available in 8x10"' or 11x17" size
Printed in full color on archival matte art paper
Shipped in heavy duty sturdy mailer for safe shipping
Print only (frame not included)
Need a statement piece for your home? Look no further than our Vintage Cat Wall Decor. Inspired by the timeless antique cat art Lithograph tradition, this art print showcases a quirky regal cat art that's full of character.
Donning waistcoats and pocket watches, our regal cat waistcoat print captures the cat's persona in a way that's both engaging and whimsical. Whether it's for your living room, office, or study, this cat in waistcoat art offers a unique conversation starter that transcends ordinary wall art.
At Digibuddha, we understand that the right decor piece can transform a space. That's why we have created this one-of-a-kind Sartorial Cat Wall Decor. Made with love and an attention to detail, the Sir Sartorial Whiskers Print is more than just a print; it's a work of art that reflects style, vintage flair, and personality.
Available in two standard sizes, each piece is a crafted expression of creativity that will surely resonate with anyone who appreciates fine art. Add this gem to your collection and let your walls tell a story that's uniquely yours!
Are you in search of that perfect piece to tie together your favorite room? Our quirky vintage cat print is the perfect blend of charm and whimsy. Featuring the Sir Sartorial Vintage Cat, this regal vintage cat art brings a smile and a dash of old-world sophistication.
With its rich textures and distinctive style, the antique vintage cat print is more than a decoration – it's a piece of art that captures the soul of a cat with a penchant for fashion.
If your walls could speak, what would they say? With our quirky cat wall print, they would undoubtedly tell a tale of elegance and individuality. Our sartorial cat artwork captures the fun and flair of a cat with an exquisite taste in clothing.
But that's not all! The vintage cat ephemera print and cat ephemera art bring a touch of nostalgia, harking back to a time when style and grace were at the forefront of artistic expression.
Whether you're a cat lover, an art enthusiast, or simply someone who appreciates fine vintage cat artwork, this collection has something for you. Every ephemera cat print is crafted with care, ensuring that you're receiving a piece that's as unique as you are. The detailed vintage cat lithograph reproduction technique captures depth and dimension, creating a visual experience that draws you in and keeps you captivated.
Let Sir Sartorial Whiskers whisk you away to a world where cats wear waistcoats, and style is eternal. Your perfect space is waiting, and our collection is here to make it complete. Add a touch of the extraordinary to your ordinary.
Embrace the timeless allure with our elegant cat art print collection at Digibuddha. This isn't just another piece of wall decor; it's a statement, a feeling, a memory captured in time.
With our antique style cat print, you'll find intricate details and a rich history that breathes life into your space. The quirky cat in waistcoat design adds a delightful twist, providing an enjoyable conversation piece that appeals to art lovers and cat enthusiasts alike.
Step into a world where art meets imagination with our cat vintage art collection. The whimsical ephemera cat design embodies a unique blend of the past and present, inviting you into a world where cats don regal clothing and carry pocket watches.
This vintage cat decor isn't just about aesthetics; it's about creating an atmosphere, building a mood, and expressing yourself. The antique cat print adds an extra layer of charm, making each piece a must-have for those looking to enhance their living space with a touch of elegance.
Why settle for the ordinary when you can have the extraordinary? Our retro cat art print is more than a product; it's a journey into a world of style, sophistication, and fun.
Each print at Digibuddha is carefully crafted with love and passion, ensuring that you get a piece that speaks to you. Add a sprinkle of vintage charm and a dash of whimsy to your life with our unique collection. Make your home a reflection of you – with art that's as special and unique as you are. It's time to let your walls tell your story!
View all Vintage Cat Art Prints.