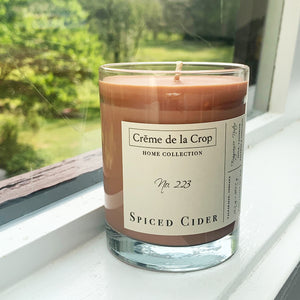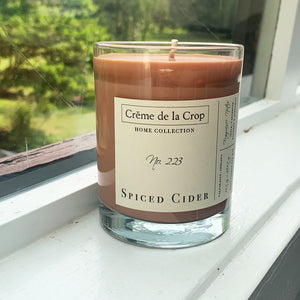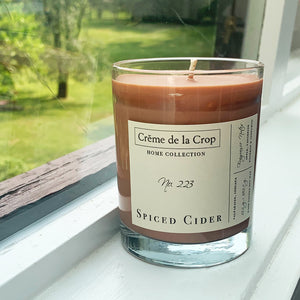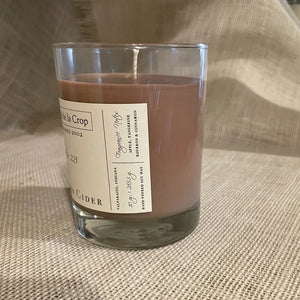 This spiced cider fall candle is a delight to the senses, and it's just waiting to fill your surroundings with an intoxicating aroma. This hand-poured fall candle is a product of dedicated craftsmanship, promising unmatched quality that can only be achieved with careful, individual attention.
13.5 oz, 100% soy wax
reusable glass jar
Spiced Cider has fall fragrance notes of apple, *cinnamon, *tangerine, *mandarin, *orange, bourbon, butter, coconut, maple, vanilla

 

(* essential oils)
The premium soy wax fall candle formulation, which ensures a clean and long-lasting burn, gives you more time to enjoy the tantalizing scents. This fall candle with essential oils strikes the perfect balance between soothing and invigorating, making it a fantastic choice for those crisp autumn nights. Our spiced cider candle is not your average fragrance. It's a symphony of carefully selected scents that create an intriguing and upscale aroma you can't resist.

These candles serve as the perfect autumnal accompaniment to your home. This Spiced Cider boozy scented candle is for those who prefer a rich, sophisticated fragrance profile that differs from the norm. 

Revel in the season's joy with our Spiced Cider fall candle, a true luxury fall candle that defines coziness. Each candle is hand-poured in small batches to ensure high-quality soy wax candles that are a cut above the rest. The unique and upscale apple spice fragrance, infused with essential oils, creates an inviting aroma that permeates your space, turning an ordinary day into a special occasion.
Our candle unfolds like a symphony of scents. The opening act, an irresistible baked apple dessert candle scent, plays beautifully with the heart of the candle: a lovingly handmade spiced candles blend. We add depth to the aroma by incorporating bourbon and butter candles into the mix, resulting in an intoxicating scent that truly sets our product apart.
Savor the natural wax candles with rich fragrance, where the notes of vanilla and apple mingle with the spicy whisper of cinnamon. The unexpected delight of coconut-infused candles adds an exotic flair to the already luxurious scent profile. Light up one of our aromatic candles for home, let its scent waft through your rooms, and transform your space into a soothing retreat. This candle was crafted to be more than a seasonal item—it's a testament to artisan crafted spiced candles that make any day feel like a special fall day.