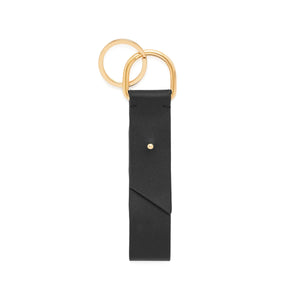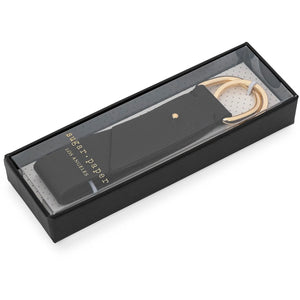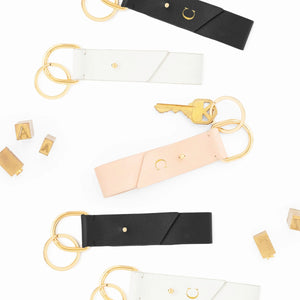 Sugar Paper Key Fob, Black
Meet the latest accessory in your essentials, the Sugar Paper Key Fob. As practical as it is polished, this black key fob is a sleek, stylish accompaniment to your keys. Wrapped in luxury vegan leather, it gives your day-to-day a touch of elegance and a dose of practicality. Its deep black tone is a statement of class, easy to locate in any bag and always ready to impress.
Vegan Leather
Classic Black
4.25 x 1 inches
We know you're all about the details, and so is this designer key fob. Featuring gold hardware accessories that sparkle against the black vegan leather, this chic key accessory elevates every interaction with your keys. Whether you're starting a car or opening a door, let each moment be underscored by the luxe finish of this designer piece. As a part of our chic keys accessories, it goes beyond functional to truly fashionable.

Perfect for the modern woman, this key fob for women is more than just a key holder. It's an expression of style and a testament to impeccable taste. Made from high-quality materials, it showcases the luxury of vegan leather products and the refinement of designer leather accessories. Each key fob carries the promise of Sugar Paper's commitment to creating luxurious, stylish, and practical products that stand out in your collection. Turn every day into a stylish event with this captivating, black key fob.
Delight in the craftsmanship of our vegan leather key fob, a testament to the blend of utility and aesthetics. This black vegan leather key fob mirrors your refined sense of style and complements any ensemble or accessory. Designed with a smooth finish and a feel that's irresistible to touch, this item will soon become a favorite, adorning your keys with an unmistakable air of sophistication.

Each key fob with gold hardware makes a quiet yet undeniable statement. We've crafted this stylish key fob with a focus on every minute detail, and the results speak for themselves. This accessory will not only keep your keys organized, but also add a touch of elegance to your routine. It's an upscale women's accessory that marries form with function.

Experience the unmistakable quality of the Sugar Paper vegan leather key fob. It embodies our commitment to provide items that enhance your lifestyle and stand the test of time. Whether you're seeking to update your collection of black leather accessories or looking to gift something memorable, this key fob is an excellent choice.

Make a statement with your key holder accessories. Our trendy keys accessories provide an element of style to an everyday object. As a part of our high-end key accessories collection, this key fob is a testament to our belief that every item you use should echo your sense of style and quality. Choose our vegan leather key fob to add a dash of luxury to your daily experiences.