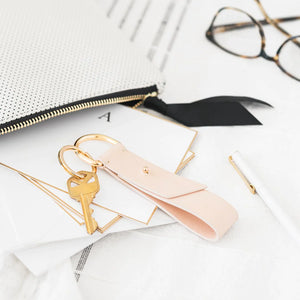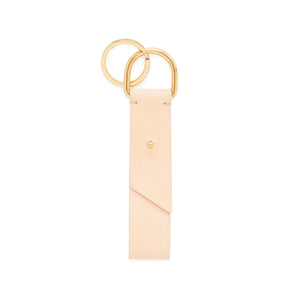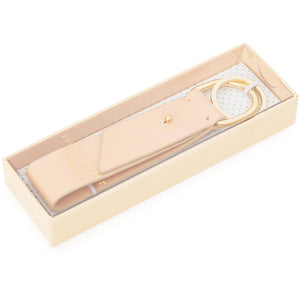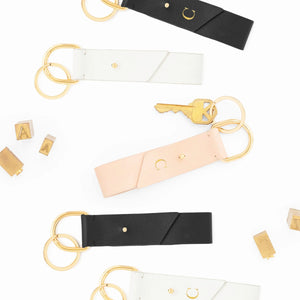 Sugar Paper Key Fob, Pale Pink
Introducing our Sugar Paper Key Fob Pale Pink, a perfect blend of elegance, style, and function. Designed with the modern, fashion-forward individual in mind, this luxury key fob is not just a mere accessory, it's a statement. Crafted from high quality vegan leather, the key fob presents a stunning shade of pale pink that lends a sophisticated pop of color to your everyday essentials. This stylish accessory is paired with gold hardware, adding an extra touch of elegance to your ensemble.
Vegan Leather
Soft Pale Pink
4.25 x 1 inches
Digibuddha is not just a paper and gift brand, we are curators of Sugar Paper Luxury Accessories. Our elegant vegan leather products, like this high quality pink vegan leather accessory, speak volumes about our commitment to style and quality. But we're not all about looks. We care about our planet too. Hence, our key fob isn't just another one of those elegant key fob gifts, it stands tall as one of our eco-friendly luxury gifts as well. With Digibuddha, luxury meets sustainability.

Our Sugar Paper Key Fob Pale Pink is more than just a key fob with gold hardware. It's a token of style, a hint of luxury, and a beacon of conscious living. So why wait? Add a touch of elegance to your day with our high quality vegan leather key fob. It's not just an accessory, it's a lifestyle choice. With our stylish pale pink accessories, you are not only choosing luxury, you're choosing to be a part of a sustainable future.
If you're on the hunt for trendy vegan leather gifts, look no further. Our Sugar Paper Key Fob Pale Pink is the perfect choice for the fashion conscious individual who values style as much as sustainability. Digibuddha is proud to offer a range of eco-conscious luxury accessories that effortlessly marry the worlds of style and sustainability. Our key fob, with its premium vegan leather and striking gold hardware, exemplifies this commitment.

This key fob isn't just another accessory, it's one of the many stylish gifts for her that we offer. A delightfully chic vegan leather item that is sure to impress, this key fob is a tribute to the modern woman - confident, stylish, and conscientious. We believe in celebrating the everyday, and our pink accessories for women do just that, adding a dash of charm and elegance to any day.

Digibuddha stands out for its fashionable gold hardware accessories. Our Sugar Paper Key Fob Pale Pink is no exception. With its gleaming gold hardware, it elevates the whole look and feel of the key fob, transforming it from a simple accessory into a statement piece. This is just one of the many unique luxury gift ideas that we have to offer. With Digibuddha, you can be sure to find the perfect gift that stands out from the crowd.

Our commitment to style and quality extends to all our products, including our designer pink vegan leather products. Crafted with meticulous attention to detail, they are the epitome of luxury and style. So why wait? Dive into the world of Digibuddha and discover a range of products that redefine elegance and style, while championing sustainability. Your perfect accessory is just a click away.