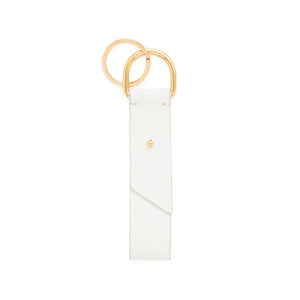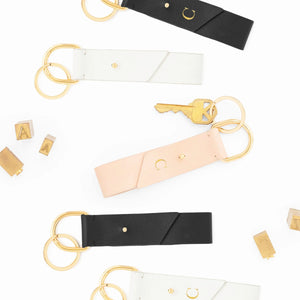 Sugar Paper Key Fob, White
Introducing our Sugar Paper Key Fob White - a unique blend of style, functionality, and elegance that stands out from the crowd. Crafted from the finest vegan leather, this white vegan leather key fob is designed to add a touch of sophistication to your daily routine. Accented with a gleaming gold ring, this key fob with gold ring is more than an accessory, it's a statement piece that complements your style effortlessly.

Vegan Leather
Classic White
4.25 x 1 inches
Each of our products reflects our commitment to quality and style. As a part of our Sugar Paper Luxury Accessories line, this high quality key fob is no exception. Made with meticulous attention to detail, it features a collar-stud closure that offers a perfect mix of style and convenience. This key fob with collar stud closure isn't just about form, it's about function too. Each product in our collection of high quality white vegan leather accessories is thoughtfully designed to serve your needs while enhancing your style.

At Digibuddha, we believe in providing more than just products; we provide an experience. Each of our white and gold luxury gifts embodies this spirit of luxury and exclusivity. Our elegant vegan leather products, like this key fob, speak volumes about our dedication to craftsmanship and quality. From our stylish white accessories to our meticulously crafted luxury items, every piece in our collection is designed to delight and impress. So why wait? Step into the world of Digibuddha and let our products add a touch of luxury and elegance to your life.
Our elegant white key fob is designed with the stylish and discerning customer in mind. This trendy white key fob showcases a fine blend of luxury and functionality. With a stunning white vegan leather finish and gleaming gold hardware, our gold hardware key fob is the epitome of chic design and quality.

The world of luxury key fob gifts is vast, but ours stand out for their quality and design. We've created a product line that embodies luxury and style, and our vegan leather key fob is a prime example. It's the perfect item for those who appreciate the finer things in life, making it an ideal choice for high end white leather gifts.

Beyond just key fobs, Digibuddha is a curator of stylish white vegan leather products.  If you're searching for the perfect gift for the style-savvy lady in your life, our collection offers a multitude of luxury gifts for her.

Our vegan leather white gifts are more than just beautiful to look at - they're a testament to our dedication to quality and craftsmanship. We believe in creating products that not only look good, but also make you feel good. So whether you're shopping for yourself or for someone else, our elegant white key fob is the perfect accessory to add a touch of sophistication to your day. Experience the Digibuddha difference and elevate your everyday style.