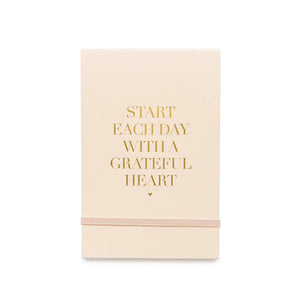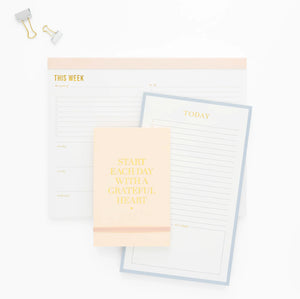 Sugar Paper Pale Pink Notepad, Grateful Heart
You'll fall in love with the Concealed Pale Pink Notepad by Sugar Paper, an elegantly designed stationery piece that pairs perfectly with your chic office supplies. Ideal for jotting down thoughts, reminders, or expressions of gratitude, this high quality notepad is a testament to Sugar Paper's commitment to superior craftsmanship. Encased in a beautiful pale pink cover, it's a Grateful Heart Notepad that's as visually appealing as it is functional.
3.75 X 5.75 INCHES
50 Lined Pages
Pale Pink Matted Laminated Cover
Elastic Closure
This Sugar Paper Notepad comes with a convenient elastic closure, perfect for keeping your pages neat and secure. Its compact size makes it an excellent pocket size stationery choice, ready for you to pull out at a moment's notice when inspiration strikes. You'll appreciate the thoughtfulness that's gone into designing this notepad, from the concealed design that keeps your notes private to the gold foil stationery touches that give it an extra dash of luxury.

But it's not just about its practical uses. As a piece from our designer stationery products, it's an expression of style and sophistication. This concealed Pale Pink Notepad makes a fabulous addition to any stationery collection or as a stand-alone gift. Perfect as a designer stationery for gifts, it carries an aesthetic that's hard to resist. So go ahead, elevate your stationery game with our Sugar Paper Notepad and let your words flow with grace and elegance.
You're going to adore the fine details on the Pale Pink Sugar Paper Notepad, which include elegant notepad designs and foil stamped details. These gold touches add an element of sophistication that sets this notepad apart from others. The compact size notepad is just right for slipping into your bag or even a large pocket, ensuring you can carry your thoughts, ideas, or to-do lists with you wherever you go. This is more than just a notepad, it's a practical yet stylish addition to your daily routine.

In every page of the Sugar Paper Grateful Heart Notepad, you'll discover a space that encourages reflection and thoughtfulness. This notepad isn't just for jotting down random thoughts; it's designed to foster a positive habit of gratitude. It's truly a stationery with inspirational messages, making it a wonderful gift for anyone in need of a little motivation or positivity.

As a portable writing pad, it's both practical and beautiful. You'll love pulling it out for a quick note or to check off a task on your to-do list. And as part of our designer writing materials, it's just as suitable for penning thoughtful letters or brainstorming your next big idea. Its versatility is part of its charm, making it a must-have addition to your collection.

Finally, don't forget the gift potential of this Pale Pink Sugar Paper Notepad. As part of our luxury office accessories, it's a perfect choice for anyone who appreciates the finer things in life. Its chic and minimal design makes it a fitting present for birthdays, holidays, or just because. Inspire your friends, family, or coworkers with our elegant gift ideas that blend practicality with style.