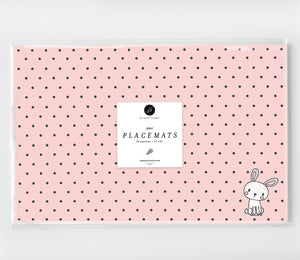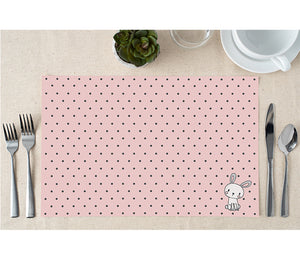 Sweet Pink Bunny Paper Placemats
Transform your table into a delightful wonderland with our sweet pink bunny paper placemats. Designed to bring a touch of whimsy and charm to any gathering, these placemats are perfect for a variety of occasions. Celebrating a baby's 1st birthday? Hosting a kid's party filled with laughter and joy? Planning an Easter birthday extravaganza? Our adorable bunny-themed placemats are the ideal choice to set the stage for a memorable event.

Crafted with love and attention to detail, these placemats feature a cute and lovable bunny design that will capture the hearts of both children and adults alike. The playful polka dot pattern adds a cheerful and festive touch to your table setting. The soft hues create a dreamy and inviting atmosphere, setting the stage for a celebration filled with love, laughter, and special moments.

Whether you're organizing a baby shower for a little girl, hosting a delightful kid's party, or simply planning a fun gathering with your loved ones, these placemats are a must-have. They add a whimsical and magical element to any event, making them perfect for capturing beautiful photos and creating lasting memories.

Our sweet pink bunny paper placemats not only bring joy and cuteness to your table, but they are also practical and convenient. Made from high-quality paper, they are durable and resistant to spills and stains. Cleaning up after the party is a breeze, allowing you to spend more time enjoying the celebration with your guests.

Celebrate those special moments with the ones you love and make every occasion an unforgettable experience. Order our sweet pink bunny paper placemats today and add a touch of whimsy, joy, and fun to your upcoming celebrations. Your guests will be delighted, and you'll create memories that will be cherished for years to come.

"Really pretty! These are so great for a baby shower or baby's first birthday. Really good quality paper and very pretty. Would buy again!"  - BN
DETAILS: 
25 pack
Professionally press printed on thick paper stock
Large size, approx. 17x11"
Packaged in sturdy resealable poly bag to store extras
View our entire Collection of Placemats