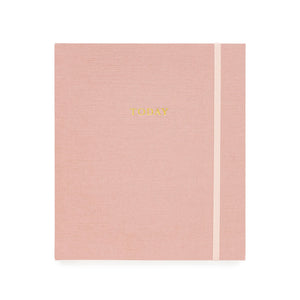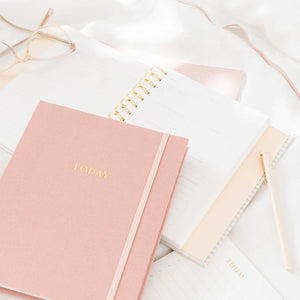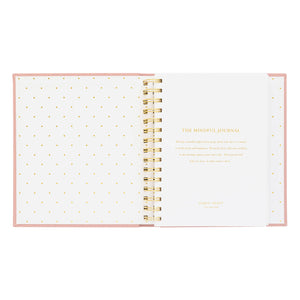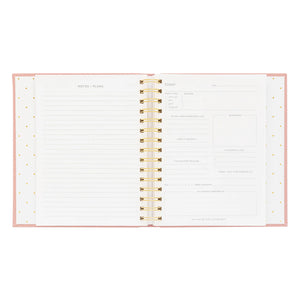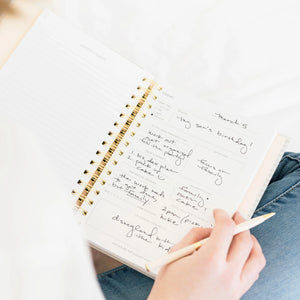 The Mindful Journal, Rose Linen
Ready to elevate your daily reflections to an all-new level of sophistication? Enter the Rose Linen Mindful Journal. Exquisitely crafted by the renowned Sugar Paper brand, this journal is more than just a notebook - it's a companion for your journey towards self-discovery and growth. Encased in a beautiful rose linen book cloth hardcover, this mindful journal radiates elegance and durability that's designed to last.
7 x 8 inches
250 pages
Book cloth hardcover
If you've been on the lookout for a high quality mindful journal, your search ends here. Designed specifically with productivity in mind, this wire bound journal comes loaded with daily prompts that will gently guide you to acknowledge and record your thoughts, ultimately enhancing your productivity. But that's not all! The Rose Linen Mindful Journal also doubles as a haven for happiness. How, you may ask? By offering a dedicated space for daily reflections, the journal serves as a tangible space for positivity, introspection, and joy, fostering a mindset that is more open to happiness.

Let the rich texture of the book cloth hardcover, the pleasing aesthetics of the foil stamped details, and the gentle rustle of crisp white pages invite you into a world of mindful journaling. Whether you're penning down your thoughts first thing in the morning, or reflecting on the day's events just before bedtime, the Rose Linen Mindful Journal is the ideal companion to hold your thoughts, aspirations, and observations. Explore a more thoughtful, aware, and joyful version of yourself with this precious mindful journal from Sugar Paper.

Imagine opening the cover of a journal that immediately invites you into its fold. The Daily Prompts Mindful Journal from Sugar Paper does exactly that. As you flip open the Rose Linen Journal, you're greeted with carefully curated daily prompts, which serve as a subtle guide, nudging you towards introspection and self-reflection. With each passing day, the process of mindful writing becomes not just a habit, but a cherished ritual.

The beauty of this Mindful Journal lies in its carefully considered details. An elastic closure keeps your entries safe and secure, adding an element of practicality to its stylish design. The foil stamped details on the book cover lend a touch of luxury, making this more than just a mindful journal - it's a piece of art in itself. This is the Sugar Paper Rose Linen Journal, a fusion of functionality and aesthetics.

Designed for clarity of thought, the journal offers a perfect canvas for note taking. Whether it's jotting down key moments of the day, recording flashes of inspiration, or simply logging daily tasks, this journal is your go-to companion. This inspiring daily journal offers you a tangible space to hold onto those fleeting thoughts, providing a sense of grounding in a fast-paced world.

Finally, our hardcover writing journal beautifully bridges the gap between luxury and utility. The quality of the Sugar Paper Rose Linen Journal is immediately apparent in the crispness of its pages, the elegance of its design, and the durability of its hardcover. These features establish it as a luxury stationery journal that not only looks great on your desk but is a joy to use. With daily prompts to guide your thoughts, every page invites you to take a mindful moment, allowing you to indulge in the rich experience of putting pen to paper. Enjoy the journey of self-discovery and growth with this exquisite mindful journal.