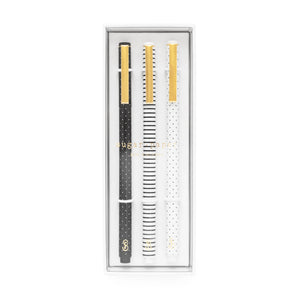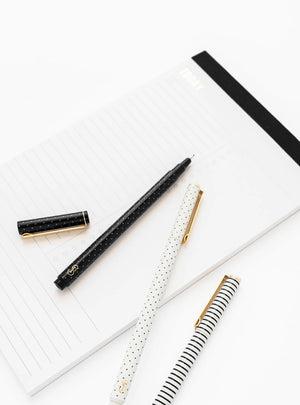 Introducing the Sugar Paper felt pens, a game-changer in the realm of handwriting. The Stripey felt pens set is not just another set of pens, but an experience in itself, combining performance, style, and quality. Each pen from the set is designed to bring an inky black finish to your handwriting, making your written work look crisp and sophisticated. These high-quality felt pens are a testament to our commitment to quality, ensuring you get only the best.
White & black plastic finish
Gold Sugar Paper logo and clip
Black ink
Felt tip, set of 3
Deservedly labeled as our best-selling felt pens, these pens are designed with a smooth barrel and intricate gold details. The elegant gold accents make these felt pens with gold details a stylish addition to any desk. Each pen's sleek design, coupled with its high performance, is sure to transform your writing experience. The Sugar Paper pen set is more than just stationery; it's a statement of class and elegance.

Write your thoughts, ideas, and dreams in the richest black ink. Our inky black handwriting pens are designed to bring a sense of professionalism and style to your writing. The pens with gold details add a touch of luxury to your stationery collection. Each of the quality black ink pens promises a smooth writing experience. Choose the Stripey pen set by Sugar Paper, a perfect blend of functionality and style. 
Revolutionizing your writing experience, our black ink felt pens offer a seamless blend of utility and style. The felt pens in patterned colors not only enhance your writing experience but also add a dash of color to your desk. This felt pens set of 3 is perfect for you, whether you're jotting down thoughts, drafting a letter, or adding the finishing touches to your masterpiece.

Experience the joy of writing with the felt pens with smooth barrel. The smooth barrel makes for effortless writing, allowing your thoughts to flow freely onto the paper. As imported felt pens, they promise an international standard of quality, making them an excellent addition to your stationery collection.

Looking for the perfect gift for a loved one? The high-quality pen sets for gift we offer are an excellent choice. Beautifully packaged and superbly crafted, they make a thoughtful and practical gift. Choose our best-selling pen set, a proven favorite among our customers, for a gift that is sure to impress. 

Designed specifically with pens for stationary lovers in mind, this collection perfectly blends style and function. Every stroke from these stylish pens for writing showcases the impeccable quality that Sugar Paper logo pens are renowned for. Imported and boasting a smooth barrel, these felt pens with smooth barrel promise a top-tier international standard of quality, marking them as standout additions to your stationery collection. 

In addition to their functionality, these pens also make a wonderful gift. Our high-quality pen sets for gift are an excellent choice for the stationary enthusiast in your life. Packaged in a stylish box, they're ready to gift as a thoughtful and practical present. Choose our best-selling pen set for a gift that is sure to impress. Whether you're gifting or treating yourself, you're choosing a lifestyle of elegance and productivity with Digibuddha.