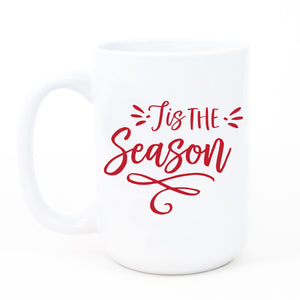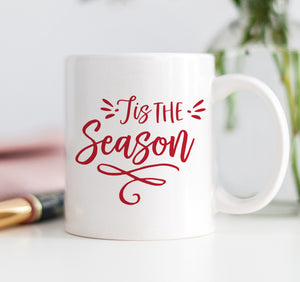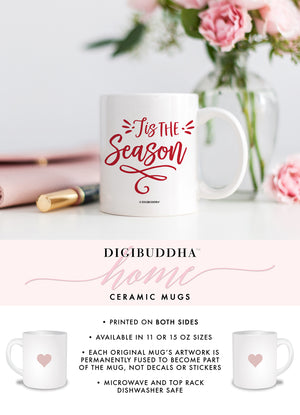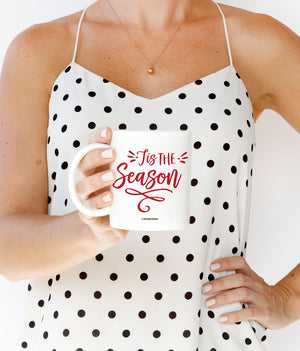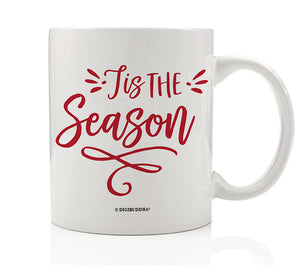 Tis the Season Coffee Mug
Embrace the holiday spirit with our tis the season coffee mug, designed to add cheer to every sip of your morning brew. This delightful mug, featuring a festive script, is ideal for those who love holiday mugs, a perfect Christmas coffee mug for your collection, or a festive coffee mug for the jolly old elf in your life. Made for those who enjoy a bit of fun with their caffeine fix, these Christmas mugs also make excellent gifts.

• Fine White Ceramic: High-quality, durable ceramic ensures your mug stands up to all the holiday cheer you can pour into it.
• Flawless Glossy Finish: Elegant finish enhances the vivid colors of our festive design.
• Permanent Design: Art is fused directly onto the mug—no stickers or decals here!
• Dishwasher & Microwave Safe: Because who has time for hand-washing during the holiday season?
• Two Sizes Available: Choose from our standard 11 oz or upgrade to a bigger 15 oz size—because there's no such thing as too much coffee during the holiday season.
The tis the season coffee mug is not just about the festive design. The mug makes a warm holiday gift to surprise a loved one or simply to treat yourself. These mugs stand as a perfect companion when the snow begins to fall, making them the ideal Christmas coffee mug to enjoy a hot beverage and watch the world turn white.
If you're a fan of Christmas mugs, you'd agree that they're not just about utility but also about the memories they help create. Memories of holiday gatherings, gift exchanges, and warm laughter that echoes around the room. With its vibrant 'tis the season design, this mug makes a charming addition to any Christmas mug collection.
For those who appreciate the art of sublimation mugs, this mug showcases a design that is permanently fused onto the ceramic—no decals or stickers—making it a great example of sublimation at its best. And lastly, whether you're a coffee drinker or more inclined towards tea, this mug serves as a versatile tea mug. Brew your favorite blend and enjoy the warm, comforting feeling it brings.
And, we've also considered those who love their beverages in larger quantities. The big coffee mug size option ensures that you have more of your preferred drink, keeping you company as you immerse yourself in a good book or a holiday movie marathon. Embrace the spirit of the season with our Tis the Season Coffee Mug, and let the festivities begin!