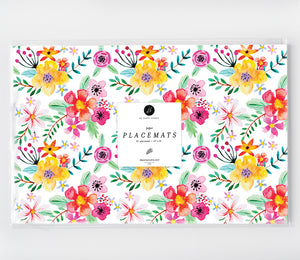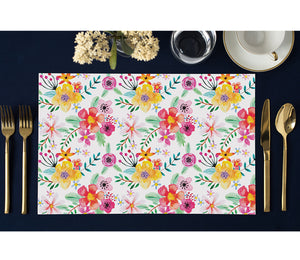 Vibrant Wildflowers Paper Placemats
Our vibrant wildflower paper placemats bring a burst of color and beauty to your dining table with delightfully adorned small floral patterns resembling charming daisies.

Whether you're hosting a birthday party, bridal shower, or simply enjoying a meal with your loved ones, these placemats are the perfect addition to your table decor. The combination of yellow, pink, and green flowers creates a lively and cheerful ambiance that will uplift any occasion.

Designed with a touch of boho and bohemian aesthetics, these placemats effortlessly blend modern style with the elegance of a garden party. Their fun and captivating design will surely make your dining experience more memorable and enjoyable.

Crafted from high-quality paper, these placemats offer convenience and ease of use. They are disposable, allowing for quick cleanup after your event or gathering. Their durable construction ensures they will withstand the demands of any celebration without losing their vibrant appeal.

With our wildflower floral placemats, create cherished memories with your friends and loved ones. Enhance your dining experience, capture the essence of a blooming garden, and let the joyous spirit of these placemats fill your special occasions.

Add a touch of whimsy and elegance to your next gathering with these vibrant wildflower paper placemats. Order now and let the celebration begin!

"Beautiful placemats! Excellent quality, vibrant colors. Elegant touch to any place setting."  - A.C.
DETAILS: 
25 pack
Professionally press printed on thick paper stock
Large size, approx. 17x11"
Packaged in sturdy resealable poly bag to store extras
View our entire Collection of Placemats