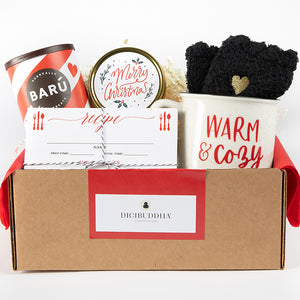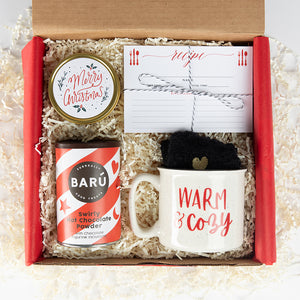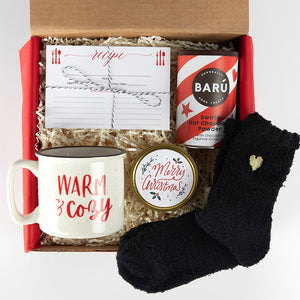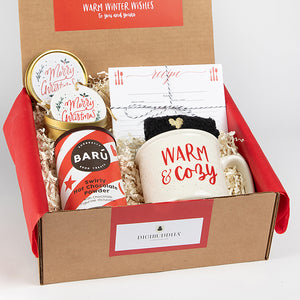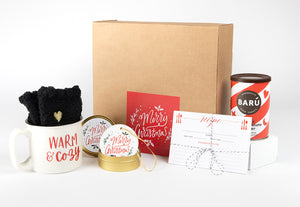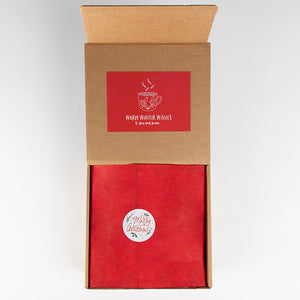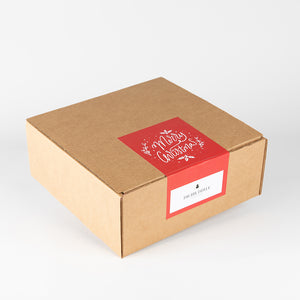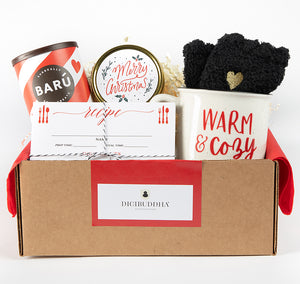 Warm & Cozy Holiday Gift Box
There's nothing like a big mug of hot cocoa and some cozy fluffy socks on a cold day and our beautifully curated signature Warm & Cozy box help set the tone for the coziest of days! Filled with all the elements you need to kickstart the holiday, this box is the perfect gift for just about any woman on your list, from the teenage babysitter, to the coworker you barely know, to your sweetest mother in law or best friend in the whole wide world - trust us when we say, she will absolutely LOVE this gift box! 
GIFT CONTENTS: Sealed kraft flap-close box, extra large 18oz speckled ceramic camper style mug with "Warm & cozy" design, cozy black fluffy socks with gold heart embroidery, custom 2021 ceramic Christmas ornament in a keepsake gold tin, set of 4x6" red and white recipe cards, full size tin of swirly hot chocolate powder. 
A NOTE ABOUT SUBSTITUTIONS: It's no secret that the world is dealing with a massive shipping/supply chain crisis, and this sometimes hits us close to home. Most of our gift items are produced in-house, but we've had occasional trouble getting supplies for our shop. This sometimes happens with the small items we include in our boxes that we source from other small makers, too. We reserve the right to substitute an item of similar or greater value when necessary, keeping the gift curation as close to the original as possible. We have very high standards for our gift boxes and will only substitute an item that meets our high expectations.