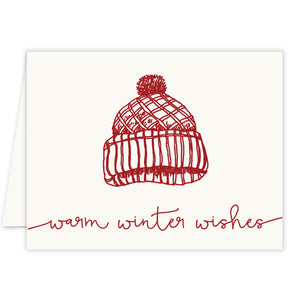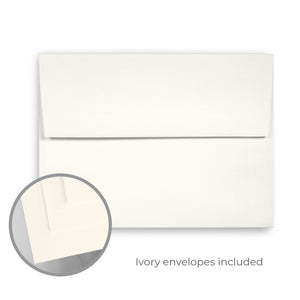 Warm Wishes Christmas Greeting Cards
Boxed 

Set of 10 Folded Cards with Envelopes

Dimensions: 

Large 5x7 inches

Printing: 

Flat Printing on 110# Finch Eggshell Paper

Card Type: 

A7 Folded Card

Envelopes: 

Ivory square flap
Unveiling the Warm Wishes Greeting Cards by Digibuddha, a delightful way to convey your warmest wishes during the joyous holiday season. With a blend of classic elegance, modern aesthetics, and a touch of whimsical charm, these cards are designed to resonate with the spirit of togetherness and love. The rich, vibrant hues mingled with a touch of elegant minimalism make these cards a treasure to keep.
Bold Design: Striking visuals that capture the essence of the holiday season, fostering a warm, inviting ambiance.
Premium Quality: Crafted with supreme card stock, ensuring a luxurious touch that speaks volumes about your heartfelt wishes.
Personal Touch: Blank canvases awaiting your heartfelt messages, turning into cherished keepsakes for years to come.
Variable Quantity: Whether you need a few or a bunch, our cards are available in various quantities to meet your needs, with discounts on bulk orders to make your holidays even merrier.
Prompt Delivery: Your beautiful cards are packaged with utmost care to ensure they reach you in pristine condition, ready to spread the holiday cheer.
There's a unique joy in penning down your emotions, and our greeting cards are the perfect companion to express your heartfelt gratitude, love, and good wishes. The tactile feel of the paper, the joy of writing, and the love enveloped in the envelope as you send it off are sentiments that digital mediums can hardly match.
Digibuddha's deluxe joyous holiday greeting cards are more than just cards; they're a tradition, a heartfelt hug, a joyous carol, and a token of love. They echo the merry tunes of the holiday season, holding within them the laughter and love of festive gatherings. Our cards are a canvas for your feelings, a holder of your warmest wishes, a keeper of your love.
Indulge in a tradition that transcends the digital divide. Let each handwritten note carry the warmth of your love, the joy of the season, and the promise of cherished relationships. Digibuddha's greeting cards are not just about the aesthetics; they are about the feelings they evoke, the smiles they bring, and the love they spread.
Wrap your sentiments in the premium quality, eye-catching design, and personal touch that Digibuddha's greeting cards offer. Let your loved ones unwrap not just a card, but a treasure trove of beautiful memories and warm wishes.