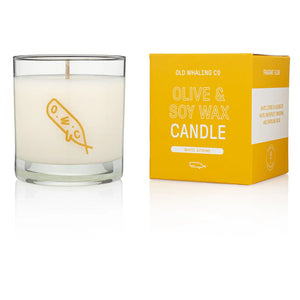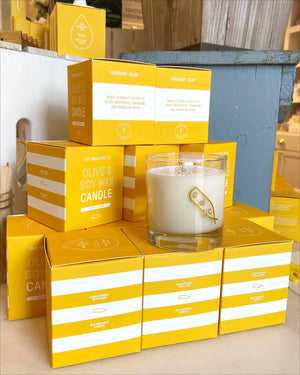 Usher in the new year with a breath of freshness. Digibuddha presents the white citrine candle with soy and olive wax, handcrafted by Old Whaling Co. This bright citrus white citrine candle fills your space with a lively fragrance that combines the zest of grapefruit and orange with subtle notes of musk and amber. The scintillating aroma gives a fresh squeeze to ordinary days, making each moment special.
7 oz olive & soy wax blend
Fragrance Notes: Top notes: grapefruit, orange, lemon, bergamot, seashore Base notes: musk, amber

lead-free cotton wick

hand-poured in a USA-made glass tumbler
Each high-quality white citrine candle is a testament to our commitment to quality. We've married the enriching properties of soy and olive wax to bring you candles that offer an unmatched experience. Our citrus scented soy candles, coupled with the earthy depth of olive wax scented candles, create a symphony of fragrances that is both soothing and invigorating. And it's not just about the fragrance. Each candle promises a long, clean burn, transforming your spaces into a tranquil retreat.

As a brand that believes in the extraordinary, Digibuddha brings you the Old Whaling Co. white citrine candle. With top notes of citrus and base notes of musk and amber, these scented candles with musk and amber take you on an olfactory journey that is truly unique. Our high-quality soy and olive wax candles not only smell divine but also have a long-lasting burn time. Dive into the long-lasting citrus scented candles experience that will linger in your memory. Embrace the magic of tranquility and freshness, only with Digibuddha.
Infuse your surroundings with an enchanting aroma, courtesy of our white citrine candle with grapefruit notes. As part of our exclusive collection, each limited edition white citrine candle is a distinctive blend of invigorating citrus and warm amber tones. The bright grapefruit notes intertwine with gentle whispers of amber and musk, creating an atmosphere that is both uplifting and soothing.

Every long-lasting white citrine candle we offer is meticulously hand-poured, promising an even and clean burn. This hand-poured white citrine candle is more than just a product; it's a piece of art created with dedication and an unwavering commitment to quality. Crafted in the USA, every USA-made white citrine candle is a testament to superior craftsmanship and high standards.

We extend our love for unique fragrances to our collection of seashore fragrance soy wax candles. Each scent is reminiscent of a blissful day spent by the coast, bringing a touch of the sea to your space. Our scented candles with a lead-free cotton wick ensure a clean burn, minimizing soot and maximizing scent dispersion. With our limited edition citrus scented candles, turn any ordinary day into a special occasion.

At Digibuddha, we're proud to present the Old Whaling Co. hand-poured candles collection. Each candle, meticulously crafted, exudes quality and sophistication. Our amber base notes candles provide a comforting and warm aroma that beautifully underpins the fresh citrus scents. Immerse yourself in an unforgettable fragrance experience with Digibuddha.